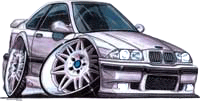 So, you are browsing the web and you come across a web page and you start to think, "Does this guy have a life?" This is one of those pages! You would be suprised what you could do when you are avoiding house chores and other real work! Besides that, I have created this page to inform people who are courious about the BMW ///M3. The car is a wolf in sheep's clothing - you would never expect it to be one of the best handling cars in the world.
I just couldn't resist. I had been saving for a new car for a long while... I am a car nut, the wait was killing me. Besides my Mustang, which was the absolute best bang for the buck at the time, the only car that caught my attention (under $70k) was the ///M3. Even back in high school when I bought my Mustang I would slobber over the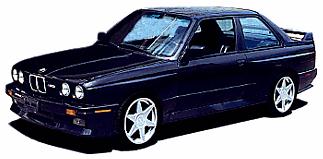 ///M3 M30 platform that was bought for some lucky kid by his parents. No such luck for me.
Well, I found that the BMW E36 platform was going to be discontinued in 1999. In 2001 the new ///M3 (the E46) will be an awesome car indeed but it will be priced above $50k. Too much for this working stiff. A used ///M3 was only a few thousand dollars less than a new one - the market and resale for the ///M3 was just too great. Seems that if I was going to get a new ///M3 it was going to have to be during the 1999 model year. It was earlier than I had planned but what was I to do? Wait? Naaa!
I tried to talk myself out of it. "I bet the resale value stinks". Nope, it's the same or better than Acura/Honda/Toyota/Lexus. "I bet I will pay $1000 to have the dome lamp fixed", Strike two - BMW's warranty covers bumper-to- bumper for 4 years / 50,000 miles (with free rental car), and they do ALL maintenance (oil changes etc) for three years. "I bet it breaks down all the time". Strike three - it is just as dependable as my Acura Integra. Safety?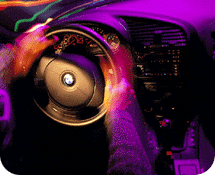 It has front driver, front passenger, and side airbags, traction control with a limited slip rearend, and 12.4" 4-channel ABS brakes for God's sake!! As of 1999, it has been on Road and Track's 10 Best car list for eight consecutive years.
Well, that satisfied all of the responsible questions I could think of at the time ;) Where else was I going to find a car that would seat 5 people, out handle and stop better than a Porche, Ferrari, Vette, or Viper, have the luxury of a Mercedes or Jaguar, accelerate faster than a Mustang (okay - up to a 1999 - stock of course), and have the dependabiility and resale of a Honda?! This is my dream car (well, that I could afford anyway) I HAD TO GET ONE! Wait until I put nitrous or a supercharger on it, it's going to have 400hp and run 12 second quarter mile times and, uh, leave me homeless. Calm down Eric!
I do regret that I had to part with my trusty 1994 Acura Integra RS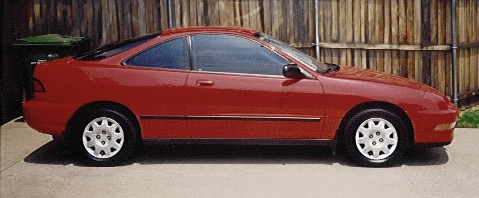 daily driver, in order to buy the ///M3. At 70k miles with brand new tires and brakes I hated to sell it as it was ready to go another 100K miles at least. It was the perfect little sporty, 142hp, dependable car, it looked and ran like brand new, and it will be missed. I love Acura/Honda, and if I ever regain my senses I will get another one.

I sold the Integra for $2600 less than I purchased it 4 years earlier. It would have been money-wise to wait a few more years but the excellent resale helped a lot. The buyer is a lucky person and they got a great deal - I never had a single problem with that car.
My ///M3 arrived in the U.S. 05/14/1999, I took delivery 05/29/1999. I must admit, it hurt putting down all of that money on a car, but that ended as soon as I drove it from the dealership. I worked hard for it, I deserve it right? Hey, shut up! After the newness wares off, and my income hopefully increases (say in..10 years?!) I would love to road race the ///M3 and actually drag race the Mustang --[Hear it!]--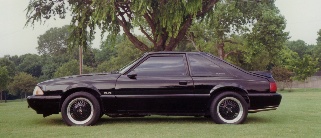 more often.





Maybe then I will buy back my Integra as my daily driver! ;) Until then my ///M3 will remain my unmodified (okay, okay... slightly modified) daily driver. Would you like to know more about the 1999 BMW ///M3 (E36)? I have collected quite a bit of information. FYI, the BMW ///M3 has had three generations, the E30, E36, and soon the E46. All of them are awesome cars, but I only have E36 information here. Be sure and check out the pictures of my car, some that I have scanned from the 1999 BMW ///M Family brochure, and some taken from the Internet. Don't forget to check out the virtual 3D movies from BMW, and the articles I have collected from top automotive magazines. Last (but not least) click on my Mustang for info about my other favorite car.
Just click on the file tabs above and Have Fun!
[ Click here to visit my personal homepage ]

This website was created: May 1999, Tech added: July 2016.